Best Hiking Trails in Georgia – Top 14 Picks
Georgia has the best acreage and views for mind-blowing hiking adventures for newbies and experienced hikers. You can find colorful beaches, enchanting waterfalls, and beautiful mountains to explore. Georgia's topography bestows numerous natural attractions with a beautiful network of hiking trails, including the Canyon loop trail, Appalachian Approach, Preachers Rock, etc. Most hard-core hikers pack their portable generators or solar panels for camping and head to the north Georgia hiking trails.
The sunshine streams through the dense tree canopy lightening the brilliant green ferns. Also, a cool breeze brushes through rolling waters from falls and streams, tickling your skin with its mild touch. But, the amazingly numerous trails could be a hassle in narrowing down the best choice, so we've chosen the best picks for you.
The most beautiful hike trails, with their unique features, highlighted in this article, inspire hikers like you to explore the gorgeous Georgian mountains.
Top Hiking Trails in Georgia
#1. – Appalachian Approach Trail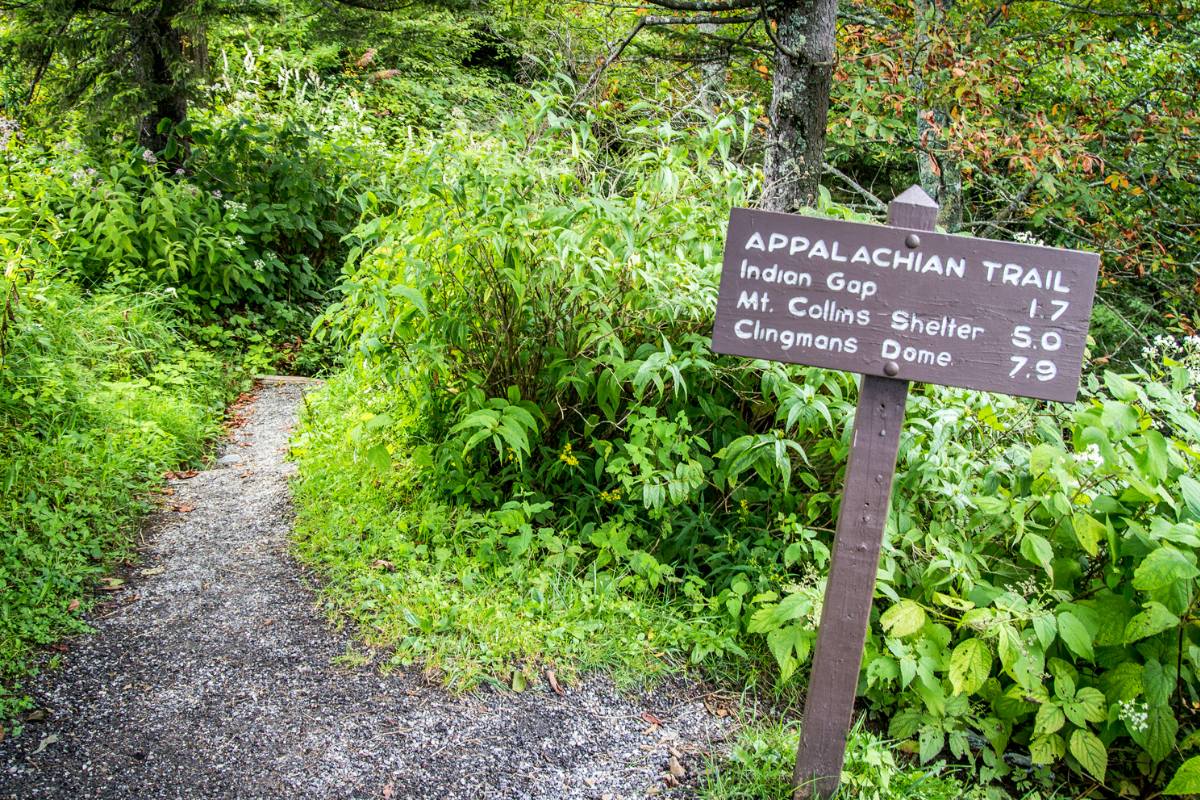 Located in Dawsonville, Georgia, Appalachian Trail is the 3.3 miles long trail leading to Amicalola Falls.
It is best for waterfall lowers who enjoy high tolerance and challenging hike expeditions. Cascading Amicalola Falls, the third tallest waterfall, Appalachian Approach Trails offers an unforgettable 600 steps hike up the Appalachian Mountains.
It is one of the best hikes in Georgia. The stunning waterfall views at the top of the mountain are a worth-your-while reward for your perseverance.
Another 8.5 miles down the trail leads out of the Amicalola Falls State Park to Springer Mountain. But that's for people seeking extra adventure.
#2. – Canyon Loop Trail
Colorful red, orange, and pink canyon walls are a distinct feature of the Canyon Loop Trail. It is at the Providence Canyon State Park, 8 miles west of Lumpkin, Georgia.
Also called Little Grand Canyon, it is best for those seeking a desert-like canyon experience with moderate hiking difficulty.
Though the 2.4-mile loop with fragile soil at the bottom of the canyon may get muddy, one can learn so much about soil layers gazing at the canyon walls.
In addition to the vivid colors of different soil layers, visitors enjoy a beautiful view of maple and oak trees' leaves.
However, the canyons in the park didn't form naturally. They resulted from severe erosion due to deforestation in the 1800s, leading to 300-foot-wide, 150-foot-deep canyons.
#3. – Yonah Mountain Trail
Located near Cleveland, Georgia, and spanning 4.8 miles, Mount Yonah Trail is popular among hikers who enjoy challenging hike adventures.
It is best for experienced hikers who love the challenge, as it has an intense elevation gain. The level of hiking challenge makes it a go-to trail for Military mountain training for rangers.
The trail is rocky with steep inclines, particularly at the last part, putting hikers at risk for deadly falls.
Therefore, we recommend adequate preparation and caution. Overall, the view at the top is breathtaking.
#4. – Preachers Rock
Located in Suches, Georgia, Preachers Rock has an easy hiking trail of 1.9 miles up a 4.39 feet high rock.
Half an hour from Atlanta, this hike provides a perfect escape from the bustling city to enjoy nature's beauty.
It's an easy walk of about 2 kilometers up the rock, with moderate height, breathtaking scenery, and stunning views.
The Preacher's Rock is among the most popular day hikes on Georgia's Appalachian Trial.
#5. – Tennessee Rock Trail
This trail is among North Georgia's most popular hikes. Located at Mountain City, Georgia, the Tennessee Rock Trail runs along Black Rock Mountain State Park, Georgia's highest mountain range (5761 feet).
Hiking along the 2.22 miles trail provides spectacular views through moderate to easy walking exploration of extensive forest boulders.
The views are most captivating in spring when colorful North Georgia flowers reappear. But the most rewarding aspect of this expedition is reaching the top of Black Rock Mountain.
The view at the mountain top, only slightly further down the hike from Tennessee Rock overlook, is breathtakingly beautiful.
#6. – Sliding Rock Trail at Tallulah Gorge State Park
Located in Tallulah Falls, Sliding Rock Trail is among the most popular hikes in North Georgia.
The 3 miles walking route allow you to explore the gorge floor while hiking up Tallulah Gorge's Sliding Rock Trails.
With numerous rocks and boulders, this trail offers a fairly intense workout for hikers while enjoying the beautiful Bridal Veil Falls.
The Bridal Veil Falls tumbles to a clear blue swimming pool, ideal for chilling out during your hike.
#7. – Cloudland Canyon, West Rim Loop & Waterfalls Trail
Located in Cloudland Canyon State Park, north Georgia, this trail spans a 50.8 miles distance with 730 feet elevation.
The loop trails offer a medium level of difficulty and feature 3,838 acres of dynamic terrain with lush woods, sandstone walls, and 1,000 feet high canyons.
Consider visiting the West Rim loops and waterfalls trails to explore the best scenic spots in the park.
The boulder-filled canyon floor and the western wall are among the best scenic places. The rocky outcroppings and overlooks give spectacular views running through Lookout Mountain at Tennessee's southern tip.
#8. – Anna Ruby Falls Trail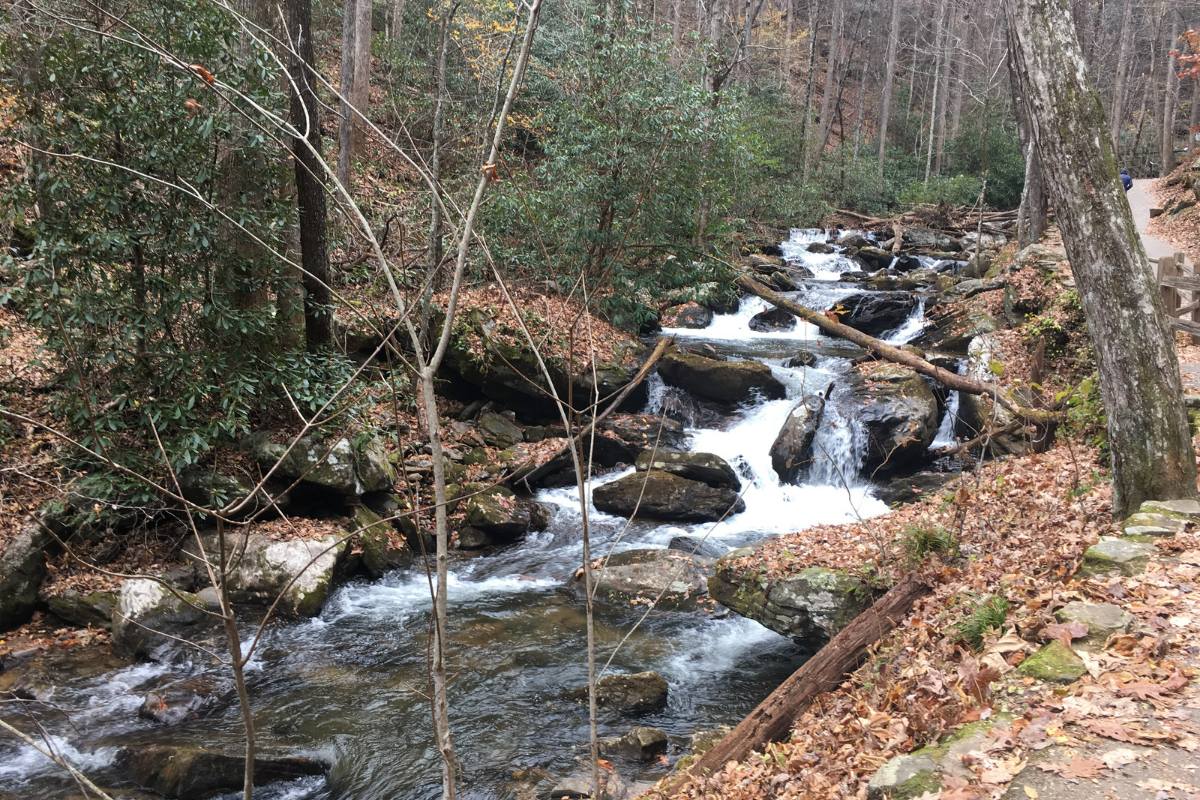 Located near Helen, Georgia, Anna Ruby Falls harbors a 1 mile (800 meters) highly accessible paved trail.
It offers a quick hike along the babbling creek of two scenic waterfalls in Chattahoochee National Forest.
The rapidly flowing creek over large boulders provides a picturesque and serene view. However, the cons of hiking here are the large crowd of visitors flocking to view the scenery at two observation decks.
You'd probably prefer to climb off-peak times to avoid large crowds.
#9. – Hurricane Falls Trail
Hurricane Falls trail at Tallulah Gorge State Park is ideal for waterfall lovers. It offers a little bit of everything, from breathtaking views to a desert-like feel from the canyon base. It is among the best hikes in Georgia.
A walk through the 1000-mile gorge explores the spectacular falls and swinging suspension bridge.
The hike is long, requiring over 1000 stairs and an easily accessible variety of places. Hikers can walk along the canyon base. But they need an interpretation permit before entering.
#10. – Amicalola Falls Loop Trail
The Amicalola Falls Loop Trail is in Dawsonville, Georgia. It offers moderate hiking difficulty around a 1-mile distance up a 774 feet elevation.
Nestled within Chattahoochee National Forest, Amicalola Falls State Park hosts the tallest waterfall in Georgia with the best hiking trails.
Hikers can admire the waterfalls in and out of the season. But it is most beautiful in autumn when changing foliage provides a bright to vivid-yellow-colored background.
#11. – Pine Mountain Trail
The Pine Mountain Trail is a 23-plus miles hiking trail winding through Roosevelt State Park, Georgia's largest state park. Hiking here offers a breathtaking rainforest and a refreshing stream experience.
You could see wildlife such as turkeys and deer or even wild horses. There are 16 camping areas along the route, offering a great camp retreat.
#12. – Blood Mountain Loop
Located at Blairsville, Georgia, the Blood Mountain Loop trail offers 6 miles of strenuous hike expedition up the 15,555 feet mountain.
The hike trails are popular among hikers because of their dynamic terrain and breathtaking views from Blood Mountain's summit.
The hike begins along the Byron Reece Trail. It merges with the Appalachian Trail towards the westbound and briskly increases elevations.
Sometimes, the trails can be rough along the steep climbing, delaying the hike a little longer. However, Chattahoochee's spectacular scenery is a worthy motivation.
#13. – Toccoa Swinging Bridge
Located in the Blue Ridge Mountains in Georgia, the Toccoss Swinging Bridge is the largest sloping bridge in the United States by an average of 288 feet.
Built by the USDA Forest Service in 1977, this swaying suspension bridge is one of the best North Georgia hiking trails.
At 270 feet tall, the bridge represents the tallest swing bridge on the Mississippi River, a good location in Blue Ridge. It swings on the Toccoa River, offering many beautiful views on the way.
The shortest trails are less than a mile and ideal for children because of the many locations where one can rest or have picnics.
#14. – Panther Creek Falls
Located at the Chattahoochee National Forest, a few miles northeast of Clarkesville, Georgia, Panther Creek Falls houses a 6.7-mile hike trail.
This trail is ideal for adventurous hikers looking for a challenge. Its terrain gets more difficult upwards, but the creek crossings, roots, rocks, and steep drop-offs make it more fun.
A bathing suit is a requirement when going hiking here. You can dip in the pool at the base of Panther Creek Falls after sweating and scrambling your way through.
Final Thoughts
Are you an enthusiastic hiker, excited to try new adventures in exciting places with spectacularly stunning views?
You should check out the top picks of Georgia hiking trails. The experience is well worth your while.
If you enjoy solo trekking, there could be a few restrictions on camp setup, but overall, it's for the great outdoors.